Welcome to Lootybag www.lootybag.co.uk
A family business offering handmade kids swim bags, drawstring backpacks, wash bags, PE bags and personalised swim bags.
Established in April 2011 Lootybag is run by Debs and Terry in Shropshire UK, specialising in designing and making a range of kids swimming bags, PE bags and wash bags. Each handmade to last from the best quality fabrics which are unique and exclusive to Lootybag. All handmade in Britian by us!
The designs are bright and exciting so that they are easy to recognise and kids can keep track of their belongings. Most kids swimming bags can be personalised with your child's name to make really sure their kit does not get lost and be one less thing that requires a name label in the run up to back to school.
The swim bags and wash bags are waterproof lined, robust, strong and able to withstand the tough life that kids can subject them to. A short video of how our swimming bags are made can be seen here. The cotton outer fabric means swim badges can be sewn on easily without puncturing the waterproof lining.
Great emphasis is placed on giving outstanding customer service with a personal touch by being honest, open, friendly and efficient. Your order will be prepared and packed with care so it arrives in great condition.
We offer a custom service so if you can't see exactly what you are looking for, please contact us or call us on 01743 240714 - we would love to hear from you.
Lootybag
Proprietors: Debra Scanlon BSc and Terry Scanlon
Email: info@lootybag.co.uk or use the contact us form
Telephone: 01743 240714
Address: Lootybag, 8 Richmond Drive, Shrewsbury, Shropshire, SY3 8TR
P.S.
We fully support NHS Staff members and are very happy to offer Health Staff Discounts.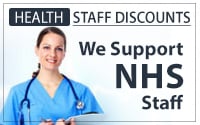 We are also partnered on Etsy for overseas sales.